An Inside Look at Optometry
---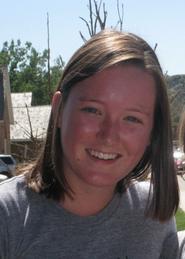 Although millions of people rely on optometrists to keep their eyes healthy and improve their vision, the inner-workings of an optometrist's office are rarely seen by the patient. Kayla Brenden '13 is spending the summer as an intern for Morrison Eye Care in their Detroit Lakes and Mahnomen locations in Minnesota. She is learning about optometry from different angles, including eye treatment, patient care and the administrative elements of running a practice. Her internship is supported by the Anderson Fund through the Career Center.
At Morrison Eye Care, Brenden is gaining experience in many ways, and she explains that her responsibilities are constantly changing to reflect the new skills she is learning. Initially, Brenden worked with the opticians, fitting and selling glasses to patients. For the last five weeks of her internship, she is working with the technicians and doctors on staff, taking fundus photos (photos of the interior surface of the eye), taking eye pressures, dilating pupils, and running the Optimal Coherance Tomography (OCT) test that measures retinal thickness. Brenden also schedules appointments, helps the patient coordinator send out cards, makes calls for reminders or files charts.
Morrison Eye Care is a private optometry practice focusing on preventative care. The practice has three optometrists on staff and offers regular eye exams, pre and postoperative care, same-day emergency care, contact fittings and LASIK assessments. In addition to this range of treatments, the practice is very concerned with patient care, and each optometrist on staff has received training to provide the best possible care with, as Brenden notes, "a personal touch."
After graduating from Hamilton Brenden hopes to attend optometry school, so this internship is exposing her to the kind of environment in which she hopes to eventually work. Brenden reports that the staff is helpful and always willing to show her something new. In addition, she is grateful for the opportunity to forge relationships with people in the field. She says, "This internship has given me a huge insight into the world of an optometrist and how the entire private practice runs as a whole." She feels that after working at Morrison Eye Care, she is better equipped to continue toward her goals.
On campus Brenden, a mathematics major with an art minor, spends much of her time volunteering as an emergency medical technician and has recently joined the Hamilton marathon canoe-racing team. She looks forward to participating in a 90-mile canoe race this fall. In her free time, she enjoys camping, rock climbing, yoga and spending time at the lake and with her family.
The field of optometry requires a large knowledge base to help treat eyes and maintain their health. Brenden's internship allows her to start building a foundation of skills that are essential to providing quality care and running a successful practice.
Kayla Brenden is a graduate of Detroit Lakes High School (Minn.)