Alexander Hare '14 Studies Lake Formation and Evolution
---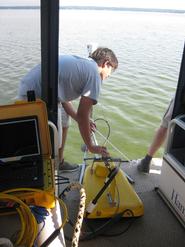 Alexander Hare '14 is conducting his senior thesis project on the acoustic stratigraphy of Oneida Lake. This summer, he acquired many miles of seismic reflection profiles from the lake bottom, revealing the layering and geologic history of the largest inland lake in New York State.
Despite its close proximity to population centers in Upstate New York and the important geologic setting of the basin, very little is known about the details of how the lake formed and evolved following the retreat of great ice sheets some 15,000 years ago.
By working out the relationships between the strata, as revealed by acoustic images, the sequence of events can be outlined and, for the first time, put into the larger context of evolving climate and ice sheet retreat.
Hare's work involved the use of an Edgetech 3.5 kHz CHIRP (Compressed High Intensity Radar Pulse) system – known as the "fish" – that produces a high pitched signal, the "echoes" of which are returned from the lake floor and from layers beneath the lake floor. The reflection profile, or cross section, is displayed as an echo diagram, showing distance on the horizontal axis and depth (reflection time) on the vertical.
Hares's project was conducted off the RV Continental Drifter, Hamilton's research boat, and was supervised by Eugene Domack, the Joel W. Johnson Family Professor of Environmental Studies.
Hare is a graduate of St. George's School in Newport, R.I.