Thrift Shop
---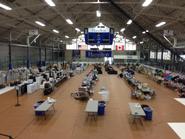 Hamilton's 6th annual "Cram & Scram" reuse/rebuy sale will take place on Tuesday and Wednesday, Aug. 27 and 28, in Sage Rink. Tuesday's sale hours are 12:30 - 5 p.m., and Wednesday's sale will take place from 10 a.m. until 5 p.m.
Not only has this program reduced Hamilton's impact upon the environment by diverting hundreds of tons of waste from the local landfill, but it also saves members of the Hamilton community money for everyday items sold at a fraction of their full retail value. Refrigerators, printers, couches, storage units and rugs are just a few of the items up for grabs at rock bottom prices.
Director of Environmental Protection Safety and Sustainability Brian Hansen is heading the Cram & Scram effort with student leaders Taylor Davis '15 and Felipe Ramirez '15. Other student helpers are Neil Buckley '15, James Ehret '14, Erin Bernard '16, Milinda Ajawara '16, Joanne Stiles '15, Isabel Dau '15, Elliot Nathan '16, C. Scott Milne '14, Osvaldo Adames '15, Corin Seguljic '15, Adja Drame '16 and Ingrid Xu, a Clinton High School volunteer.