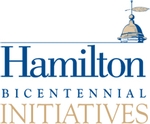 A college can be called great only if it makes a difference in the lives of the students it serves. After all, what good is a college that creates an educational environment that promises to unlock the potential of talented and hard-working students only to ignore the financial barriers they face? And what good is it to attract some of the brightest students and professors and then put limits on their imaginations?
Bicentennial Initiatives is Hamilton's response to these dilemmas.
Bicentennial Initiatives is about access, creativity and opportunities for students.
Bicentennial Initiatives is about ensuring Hamilton's greatness as we begin our next century.