Lily Johnston '16 helps install a piece in a show by Alyson Shotz at the Wellin Museum of Art
A student's choice: the liberal arts in pursuit of art
As a rising Hamilton College sophomore, Lily Johnston '16 spent the summer doing research on a fish parasite with a team of students and a biology professor, and the work was published in a scientific journal. The next summer she secured an internship, funded through the College, to work in New York City at the Elizabeth Foundation for the Arts, where she promoted contemporary artists and met more than a few of them. Now, heading into her senior year, supported by a Hamilton Emerson grant, she's doing a summer research project about color theory. With her penchant for academic exploring and pushing herself to try new things, Johnston says she's certain she made the right choice when she picked Hamilton over an art school. She's majoring in art and minoring in biology. "I'm really happy I go to Hamilton; I don't think there's a better place for me, honestly, " Johnston says.
More >>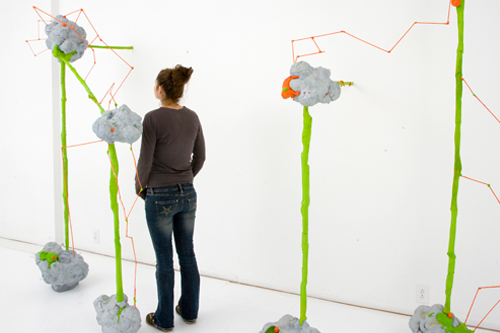 Jackie Brown '04 and one of her works.
A graduate's progress: making, studying, teaching art
Jackie Brown '04 is a working artist who earned a master's of fine arts degree from Virginia Commonwealth University's School of the Arts and is an assistant professor of art in sculpture at Bowdoin College. She works in drawing and sculptural installation.
More >>