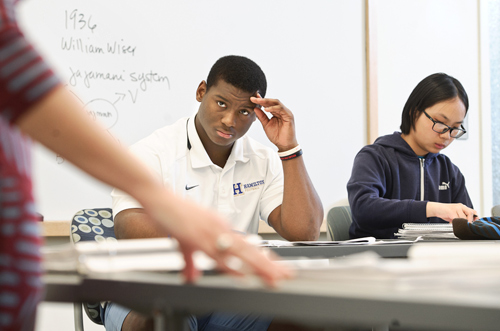 Marcus Gutierrez '18 in Making Modern India, a history course taught by Professor Lisa Trivedi.
A history lover finds an intellectual home at Hamilton
As a kid Marcus Gutierrez '18 was, in his own assessment, an athletic nerd who would hang around the house and watch the History Channel. It seems to follow that he's now a history (and government) major and member of the Hamilton College football team. His first Hamilton history course looked at Europe and its empires circa 1500 to 1960. He loved it. "My writing became so much more potent. And it connected with everything I really appreciated in life," Gutierrez says. "It explained a lot about race, religion. Being of Hispanic descent, being African and Hispanic, Europe and its empires is my history as well – I can really appreciate that."
More >>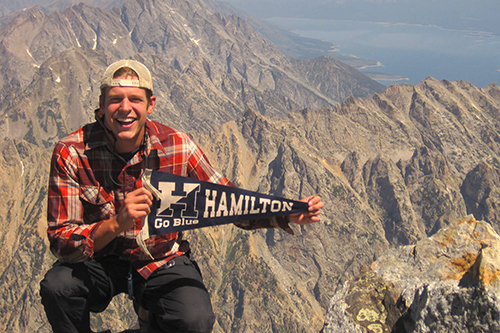 Jacob Sheetz-Willard '12 atop the Grand Teton mountain.
A graduate's progress: earning a master's, seeking to inspire
Jacob Sheetz-Willard '12 is studying the subject he learned to love at Hamilton College – history – in a master's program in American history at Utah State University. He entered the program as the presidential fellow for the College of Humanities and Social Sciences.
More >>