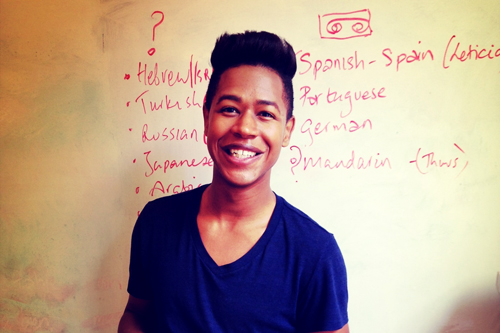 Dyllon Young '15
A student branches out: a language and a start-up
Dyllon Young '15 spoke Spanish and Italian before he entered Hamilton College and was ready to take on another language. He majored in Asian studies with a focus on China and Chinese, got a good grip on the language and put his skills to use in an internship funded through the College Career Center. Young went to work for a summer for a burgeoning language-instruction company called Smigin, helped launch its mobile app and remains active in the business.
More >>
A Fulbright, Japan and a grad-school plan
Thanks to a Fulbright grant, Alex Benkhart '11 spent his first year out of Hamilton College in Oita, Japan, studying the role of Internet forums in rural gay communities. "The Fulbright year was amazing. Not only did I get the opportunity to study something that is both important and really interesting, I also had a great year just being in Japan. I met a lot of people through research and interviews as well as by simply living in a small community," says Benkhart, who majored in Asian and religious studies at Hamilton. He spent the post-Fulbright year teaching English, continuing his research and taking part in local LGBT groups. He still lives in Oita and teaches English to prekindergarten students and plans to attend grad school in development studies.
More >>