Women's swimming & diving falls to Amherst
---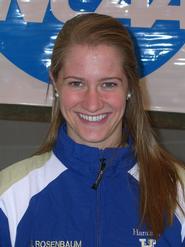 Maggie Rosenbaum '14 finished first in a pair of backstroke events in Hamilton College's dual meet loss to Amherst College at Amherst's Pratt Pool on Jan. 19.

The Lord Jeffs topped the Continentals, 180-106. Hamilton hosts Union College for Senior Day on Saturday, Jan. 26.

Rosenbaum completed the 50-yard back in a time of 27.64 seconds and the 100 back in 59.49 seconds. She also took second place in the 400 individual medley with a time of 4:39.42, which is the second-fastest time in program history.

The 200 medley relay and 200 freestyle relays posted season-best times. Rosenbaum, Lauren Halladay '16, Joanie Burton '13 and Sarah Hooper '16 finished the medley relay in 1:52.89. Halladay, Burton and Hooper teamed up with Allie Reeder '14 for a time of 1:42.82 in the free relay.

McKenna Kelly '15 finished third in a pair of distance free events. Kelly recorded times of 2:00.98 in the 200 free and 5:21.80 in the 500 free. Hooper swam to third place in the 50 free with a time of 25.65 seconds. Diane Paverman '13 was second in 3-meter springboard diving with 237.60 points and second in the 1-meter with 249.45 points.