Women's swimming & diving eases past Rensselaer
---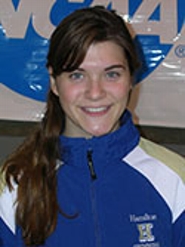 Four Hamilton College swimmers and divers won two events each and the Continentals breezed to a 149-90 dual meet victory against Rensselaer at Rensselaer's Robison Pool on Feb. 2.

Hamilton (5-5 overall) is off until the 2013 NESCAC Championship at Bowdoin College. The three-day event begins on Friday, Feb. 15.

Sarah Hooper '16 swept the sprint freestyle events with times of 25.79 seconds in the 50-yard free and 56.19 seconds in the 100 free. McKenna Kelly '15 captured two of the distance free titles with times of 2:00.26 in the 200 free and 11:06.95 in the 1,000.

Maggie Rosenbaum '14 claimed the top spot in the 200 individual medley (2:14.40) and the 200 backstroke (2:10.56). Lauren Halladay '16 finished first in the 200 breaststroke with a time of 2:35.17. Allie Reeder '14 was runner-up in the 200 free in 2:03.98, and Gina Goldberg '14 ended up third in the 500 free with a time of 5:53.83.

Diane Paverman '13 took first place in both springboard diving events for the second straight day. Paverman posted a score of 260.60 points on the 1-meter board and racked up 272.20 points in the 3-meter event.

The Continentals won the 200 medley relay with a time of 1:55.46. Members of the relay included Rosenbaum, Halladay, Joanie Burton '13 and Sarah Larson '15. The 200 free relay of Reeder, Larson, Maja Feenick '13 and Hooper recorded the meet's top time of 1:44.53.