Women's swimming & diving dominates Skidmore
---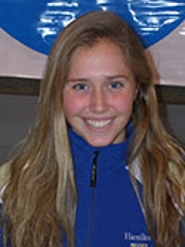 Hamilton College swimmers and divers finished first in 12 events and the Continentals cruised to a 186-114 dual meet win against Skidmore College at Skidmore's Williamson Sports Center on Feb. 1.

Hamilton (4-5 overall) wraps up the regular season with another dual meet at Rensselaer on Saturday, Feb. 2.

McKenna Kelly '15 captured first place in the 200-yard butterfly (2:17.89) and the 500 freestyle (5:22.56). Maggie Rosenbaum '14 earned victories in the 200 free with a time of 2:00.96 and in the 50 fly in 27.25 seconds.

Sarah Hooper '16 was first in the 100 free (55.33 seconds) and second in the 50 free (25.72 seconds). Allie Reeder '14 claimed the top spot in the 50 backstroke with a time of 30.53 seconds, and Morgan Lane '16 raced to first place in the 50 breaststroke in 34.32 seconds.

Sarah Izzo '15 took first place in the 200 back (2:17.87), Sarah Dempsey '14 won the 200 breast in 2:38.72 and Lauren Halladay '16 was victorious in the 200 individual medley with a time of 2:19.45.

Diane Paverman '13 swept the springboard diving events. Paverman posted a score of 244.95 points in the 1-meter board and ended up with 229.05 points in the 3-meter.