Women's swimming & diving wins Founders Invitational
---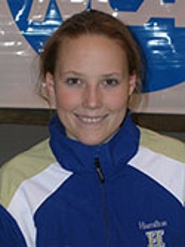 Hamilton College defeated Colorado College and Colby-Sawyer College at the Founders Invitational held at Founders Park in Islamorada, Fla., on Jan. 11.

The Continentals (2-4 overall) topped Colorado College, 86-62, and Colby-Sawyer, 109-35. Founders Park is a long-course meters facility. Hamilton heads to Amherst College for a dual meet on Saturday, Jan. 19.

Joanie Burton '13 and McKenna Kelly '15 took home first place in one individual event apiece and helped lead relays to victories. Kelly won the 200-meter freestyle in a time of 2:20.36. Burton claimed first place in the 50 butterfly with a time of 31.37 seconds, and edged runenr-up Maggie Rosenbaum '14, who finished in 31.41 seconds.

Burton and Rosenbaum teamed up with Lauren Halladay '16 and Sarah Hooper '16 for first place in the 200 medley relay in 2:16.82. Kelly helped lead the 200 free relay to the top spot along with Sarah Larson '15, Marta Pisera '14 and Allie Reeder '14 with a time of 2:05.80.

Bridget Lewis '16 earned second place in the 50 backstroke with her time of 37.20 seconds. Hooper took second in the 50 free in 29.59 seconds -- only .07 seconds behind the winner. Diane Paverman '13 ended up third in 1-meter diving with a score of 227.05 points.