Women's swimming and diving to compete in NESCAC championship
---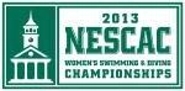 The Hamilton College women's swimming and diving team participates in the 2013 NESCAC Championship at Bowdoin College's Leroy Greason Pool from Friday, Feb. 15, through Sunday, Feb. 17.

A championship preview has been posted on the NESCAC Web site. The preview includes links to real-time meet results, live webcast, championship schedule and ticket information.

Women's swimming and diving championship preview

The preliminary heats start each morning at 10. Friday's finals begin at 6 p.m., Saturday's finals get underway at 5:50 p.m. and on Sunday the finals start at 5:30 p.m.

Tickets are $7 per session for adults and $3 per session for children and students. Doors open one hour prior to the heats and finals.

Maggie Rosenbaum '14 leads Hamilton into the weekend. Rosenbaum was selected the 2012 Swimmer of the Meet at the NESCAC championship after sweeping the 50-, 100- and 200-yard backstroke events for the second straight year. She earned all-conference honors for finishing first in all three backstroke events her first two seasons. A two-time defending NCAA Division III champion in the 100 back, Rosenbaum has garnered All-America honors for the 100 back (2011, 2012) and the 200 back (2012).