Softball splits pair of one-run games
---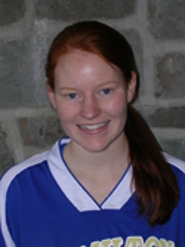 Hamilton College defeated the University of Massachusetts-Dartmouth, 2-1, and was edged 3-2 by the University of Wisconsin-Oshkosh in non-conference games at the Cape Coral Sports Complex in Florida on March 22.

Hamilton (3-7 overall) wraps up its Florida trip with a non-conference doubleheader against Knox College on Saturday, March 23.

Against UMass-Dartmouth (4-6), Sam Miller '14 singled twice and Olivia Gozdz '16 had the other hit for the Continentals. Amy Appel '13 picked up her first win in the circle this year.

The Corsairs jumped on top 1-0 with a run in the top of the first inning. Hamilton answered with two runs in the bottom of the fifth. Talia Mercado '15 walked, moved to second base on a sacrifice bunt and scored on an infield error. Ellie Kiernan '15, who had reached base on that error, scored on another error on a ball hit to second base by Jenn Rougeux '14.

Against UW-Oshkosh (9-5), Miller had two hits again and drove in a run, and Gozdz and Kiernan doubled. Kelly Leonard '15 was saddled with the hard-luck loss after she allowed three runs on six hits in six innings. Leonard walked one and struck out two.

Tess Fadness hit a tie-breaking solo home run in the bottom of the sixth inning and also doubled for the Titans. Taylor Loew went 2-for-3 with a double and an RBI, and Kaelyn Hogan went 2-for-3. Courtney Wautier allowed two runs on six hits and fanned 10 in seven innings.

Oshkosh scored single runs in the third and fourth innings and led 2-0 after five. The Continentals tied the score in the top of the sixth. Kiernan blasted a one-out double to left center and advanced to third base on a ground out to third. Gozdz drove home Kiernan with a double to left field and scored on Miller's single down the left field line.

Hamilton had a chance to tie the score in the top of the seventh. Appel singled with one out, Lisa Faraci '13 was hit by a pitch with two outs and there were runners at first and second. But Wautier ended the game with her 10th strikeout.