Eldevik Presents Research in Vienna
---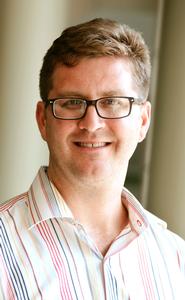 Assistant Professor of History John Eldevik recently presented invited papers at two venues in Vienna, Austria. The first, titled "Saracens in the Manuscript Matrix: images of the pagan' other' and the transmission of hagiography in the High Middle Ages," was presented at a workshop organized by the Special Research Unit "Visions of Community" in the Austrian Academy of Sciences on Nov. 21.
The second, "Medieval Orientalism and the Manuscript Matrix: Re-situating Images of the Crusades and Islam in the Later Middle Ages" was presented on Nov. 30 to the Arbeitskreis zum christlichen Diskurs der Spätantike und des frühen Mittelalters (Working Group on Christian Discourse in Late Antiquity and the Early Middle Ages) at the University of Vienna.
Both papers dealt with Eldevik's current research project on the transmission of texts relating to Islam and the non-Christian world in medieval Bavarian monastic communities.