Grads, be flexible and creative
"So, in these few minutes let me tell you what I have learned in 30-some years traveling the world as a war correspondent and reporter that may help you meet the challenges ahead in your lives over the next 30 years. Nothing."
Although this observation drew some chuckles from the audience gathered at Hamilton's Commencement on May 25, speaker Christopher Dickey was serious in illustrating his point. "Change comes so fast that we almost forget it's happening," he told the 500 ­students receiving bachelor's degrees. "What counts is flexibility and creativity — our ability to take what we've learned in life and school and work, and think about it and build on it, and combine it with the new things being thrown at us by a world full of hugely creative people."
Dickey, a journalist who worked at The Washington Post and Newsweek before assuming his current role as foreign editor of The Daily Beast, was awarded an honorary degree, along with Deborah Bial, founder and president of the Posse Foundation, and Thomas J. Schwarz '66, president of Purchase College, State University of New York.
"What we know about the future is going to have a hell of an impact on the way you and your work are valued as you break into the job market, and then break into it again, and again, and again. Because that's what all this disruption means," said Dickey, whose father, poet James Dickey, received an honorary degree from Hamilton in 1972. "You are going to have many jobs, and with each one you'll have to reinvent yourself to a greater or lesser extent, or you'll be reinvented by someone else."
Also speaking at Commencement was valedictorian Sarah Hammond of Saratoga Springs, N.Y., and Margaret Doolin of Marlborough, Mass., recipient of the James Soper Merrill Prize, awarded to the graduate who, "in character and influence, has typified the highest ideals of the College."
For photos, video and full transcripts of the 2014 commencement speeches, visit www.hamilton.edu/commencement.
CLASS OF 2014 IS TOPS. Members of the Class of 2014 posted a record-setting participation rate of 98.3% for this year's senior class gift. Funds will support a terrace to be built outside the Siuda House admission office to commemorate the College's need-blind admission policy. The practice of admitting the most qualified students regardless of their ability to pay and meeting their full demonstrated need for four years holds special meaning for the Class of 2014, Hamilton's first to be admitted under the need-blind policy.
The neXt thing for Hamilton: MOOCs
Within a year, alumni scattered around the globe can log on to a no-credit course developed by Hamilton faculty and delivered via edX, an online learning enterprise founded by Harvard University and the Massachusetts Institute of Technology. Hamilton's new relationship with edX marks the College's entrée into the world of "massive open online courses," known as MOOCs.
Hamilton announced in March that it would join edX for a three-year pilot period in a relationship that holds multiple potential benefits for the College. Hamilton plans to create six online courses over the three years; two courses the first year will be open to the world at large, which, of course, includes alumni. Certain courses will be open only to alumni and potentially to others in the College community. Faculty members are still developing the courses and their timelines. The offerings will be purely for personal enrichment, not for Hamilton credit.
MOOCs are free courses that aim to open the doors of higher education to anyone with Internet access. They have burgeoned in the last couple of years, even as academia weighs their potential and impact on higher education. The edX platform offers more than 150 courses that vary greatly in structure. Some are full-blown courses; others are divided into smaller chunks. Typically they include video lectures and related materials and a chance for students to interact on discussion forums. EdX was created "for students and institutions that seek to transform themselves through cutting-edge technologies, innovative pedagogy and rigorous courses."
Hamilton, which joined edX in partnership with Colgate University, is among a dozen new edX members that signed on in March, including The Smithson Institution, the International Monetary Fund and Osaka University. Its 32 charter members include the University of Chicago, Cornell and Columbia universities and the University of California, Berkeley, among others.
According to Pat Reynolds, vice president for academic affairs and dean of faculty, the biggest potential benefit for Hamilton is for professors to become more familiar with online educational technology and its possible benefits for their teaching. Dave Smallen, Hamilton's vice president for libraries and information technology, who is working with Reynolds on the edX project, notes that the online experiences will be used to enhance, not replace, what faculty members do in the classroom.
"Our faculty have always [looked] and are always looking at ways of enhancing the experience, this face-to-face experience, which is what we're all about," says Smallen, who adds that edX is also a way to give international prominence to the faculty's pedagogy and scholarship. There are other potential benefits, for instance engaging with alumni and showing a broad audience what Hamilton has to offer.
As a member of edX, Hamilton can help shape the national dialogue about online learning and the role of the liberal arts in that rapidly developing conversation, Reynolds says. Hamilton and Colgate join liberal arts colleges Davidson and Wellesley, edX charter members, in discussing how to create a collective voice within edX. The Hamilton-Colgate partnership allows the two institutions to share production costs and expertise, but each will create its own courses.
Meghan Morrissey '07, who was an Asian studies major and education studies minor, works on the edX front line at HarvardX, which produces Havard's edX content.
She is the course manager and lead course developer for a Chinese history course considered to be HarvardX's most ambitious MOOC thus far. ChineseX consists of smaller blocks of content ("modular content" in edX jargon) that can be strung together in a larger-scale course.
Morrissey is excited to see how Hamilton will contribute to the development of the liberal arts approach online. Traditionally liberal arts schools are valued for their low student-to-teacher ratio, discussion seminars and focus on critical thinking and writing, she observes. That leads to the question — how does a liberal arts college adapt its approach to thousands of online students?
"I'm very curious about how liberal arts colleges are thinking about this," says Morrissey, who believes that Hamilton, with its pioneering Digital Humanities Initiative and faculty members who already use technology, has much to contribute.
The College's Digital Humanities Initiative is a research and teaching collaboration in which new media and computing technologies are used to promote humanities-based research, scholarship, teaching and curriculum development across the liberal arts.
More on MOOCs
Opinion piece by Pat Reynolds, vice president for academic affairs and dean of faculty, and Doug Hicks, provost and dean of the faculty at Colgate University
A Return Engagement
Acclaimed playwright Richard Nelson '72, H'04 returned to College Hill on March 11 to meet informally with students and deliver the annual Tolles Lecture in the Chapel. He opened his talk, The Peculiarity of Theatre, by remarking, "This room has many ghosts; ghosts in every corner."
Nelson recounted how, as an undergraduate, he spent a night in the Chapel alongside fellow students protesting the war in Vietnam, how he had stood at the altar as the best man at his older brother's wedding and how, outside on the Chapel steps, he produced his first play.
The prolific writer, whose book for the musical James Joyce's The Dead earned him a Tony Award in 2000, told the audience, "Theatre, at its essence, is not a building, style or political megaphone. It is simply a kind of intimate human relationship, profoundly deep and one by which we may know ourselves."
Our Backyard Classroom
The Adirondack Mountains and surrounding wooded areas of Upstate New York provide the perfect landscape for exploring and studying the natural environment. For years, Hamilton has offered its popular pre-orientation Adirondack Adventure, and numerous courses and clubs have taken advantage of trips to the "forever wild" region of New York. But as Visiting Assistant Professor of English Janelle Schwartz '97 notes, "There was no immersive, sustaining way to take advantage of the Adirondacks through a rigorous curriculum."
That will change thanks to a pilot semester-long Program in the Adirondacks set to debut in fall 2015. "Over the years I've been struck by the success of the New York and [Washington] DC programs and study abroad, but they are all urban-centered," Schwartz says. "I felt Hamilton needed a balance and complement to those and thought of the Adirondack Park that's so close to us."
Professor of Physics Seth Major, who along with Schwartz is a member of the committee developing the program, explained that, like the College's programs in New York and Washington, D.C., the semester will focus on a theme, which will be explored through seminars, lectures and projects. "Students will be able to see the issues 'on the ground' through the field component of the semester and through living and talking with folks in the park," Major says. "The students will build a small community … they will learn much more about the many intertwined issues of community, ecology, natural resources, tourism and politics."
Like the New York and DC programs, the Program in the Adirondacks will have an alternating Hamilton faculty director, who will teach an intensive seminar related to many of the park's resources, and an interdisciplinary common experience seminar taught jointly by several faculty members and featuring experts from the park. The program will also include a field component, incorporating practical applications of the theories taught, and an independent capstone project. In addition, students will have leadership opportunities, such as working with local organizations or businesses.
Please Edit to add slideshow images
No Objections to First Mock Trial Invitational
A robbery at Racheter World Amusement Park results in the death of park security guard Winston Thomas. In an impressive display of legal and communication acumen, the Hamilton Mock Trial team brought the criminal case of Bowman v. State of Midlands to court this spring against teams from Cornell and Rochester. This was the College's first home invitational.
Hamilton's Mock Trial team has been preparing this year's criminal case, sponsored by the American Mock Trial Association (AMTA), since the fall. Throughout the year, the team participates in six to nine invitational and ranked-AMTA tournaments, adapting its case based on changes released by AMTA without notice. The Hamilton team, which competes against some of the best teams in the Northeast, placed first at the Rochester ­Invitational, fifth at Yale, eighth at Tufts and with a trophy finish at the Big Red ­Cornell Classic.
Planning for the two-day Hamilton invitational, organized by tournament director Patrick Bedard '14, began in January. Building a network among other competitive college mock trial teams in the region has been an ongoing goal. "This event allowed us to reach out to teams from Cornell and Rochester on both a social and professional level," says team captain Jason Driscoll '14. "The relationships we form are important for our national reputation and provide us with greater opportunities during the competitive season."
Mock trial veteran Tyler ­Roberts '12, a law and pre-medical student at Columbia University, served as the trial judge. The jury was comprised of student volunteers and faculty members. It was clear that while court was in session, the participants were no longer Hamilton students; they had transformed into practiced lawyers, or even entirely new ­personas as witnesses.
The level of competition throughout the weekend was moderately casual, allowing for an enjoyable rather than stressful experience. According to Bedard, "Rochester and Cornell are some of our favorite teams to go against at invitational and national tournaments because they present tough but fair and enjoyable competition." Yet, the calm atmosphere did not prevent Hamilton from giving its best effort. Student attorneys displayed the utmost degrees of intellect and professionalism, powerfully appealing to the emotions of the jury in their addresses and responding to the opposing teams' objections without stumbling. The witnesses similarly demonstrated their expertise, cleverly avoiding opposing ­attorneys' questions and attacks while remaining polite in the eyes of the jury.
Ultimately, Hamilton finished on top with a score of 4-0; Cornell finished second with a score of 2-2 and Rochester third with a 1-3 result.
In addition to serving as an opportunity for team members to hone their skills and strengthen their case, the weekend proved to be educational. "We learned that we have the necessary facilities and resources to host a full-blown AMTA mock trial invitational," Bedard says. Though Hamilton only invited two teams this year, it hopes to ultimately host a tournament of 10 teams, in the fashion of most AMTA tournaments.
Mock trial "[perfects] the writing and speaking skills that our mission statement embodies … on a very competitive level," Driscoll says. "The amount of preparation that is required to compete at this level gives students the opportunity to learn something that they do not learn in the classroom. Mock trial is both an academic and professional experience that gives our students the skills necessary to succeed as litigators and trial lawyers, among other careers."
— Kaitlin McCabe '16
Please Edit to add slideshow images


Class & Charter Day Particularly 'Note'able
As has been the case for the past 64 years, Class & Charter Day saw students lauded for academic and leadership achievements, professors recognized for teaching and scholarship, and inspirational words delivered by a keynote speaker — this year by Mary McLean Evans '82, assistant vice president of the Career Center.
But what made this year's event different was a prize that went to an alumna, Riley Stepnick '12, who received top honors in the Alumni College Song contest. Her song "I Left My Heart on the Hill" was debuted by the College Choir during the ceremony. It was one of 40 pieces submitted by students, alumni, and faculty and staff members for the competition.
Stepnick, a music teacher at Buffalo Academy of the Sacred Heart, "wanted the piece to have a nostalgic feel, and I started thinking about all of the things I missed from Hamilton. I think we all miss that wonderful high that Hamilton gives you — the feeling that you can accomplish anything — and I know that I left a little piece of that at Hamilton."
The idea for the song contest was sparked a year ago by Russ Bantham '63 as he was listening to the Alumni Choir rehearse during Reunion Weekend. "I wondered how ­relevant a song about Lord Jeffery Amherst is to students today," Bantham says. "An awful lot has happened at Hamilton since most of the college songs were written. I thought it would be fun to celebrate the College today and wondered if it would be possible to create a new college song to go into the college songbook."
In many ways, Stepnick's song echoes sentiments in Mary Evans' address. She borrowed the title of her Class & Charter Day remarks, "We Know Them as People," from a phrase used by the late Professor of Economics Sidney Wertimer.
"Sidney insisted that the thing that sets Hamilton apart is that members of our community really care about each other," Evans told those gathered in the Chapel. "Faculty, staff and students get to know one another here as individuals: people with hopes, ambitions and dreams, not just teachers, students or classmates. This, Sidney said, makes Hamilton a special place. My premise is that this hasn't changed much in 200 years and helps explain why generations of Hamiltonians feel such a strong bond."
For more on award winners and a video of Evans' address and the College Choir singing "I Left My Heart on the Hill," visit www.hamilton.edu/ccd.
Taking a Winning Idea to the Next Level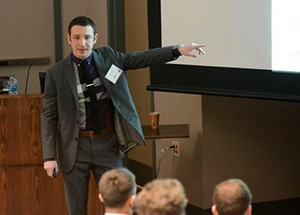 Entrepreneur Sam Matlick '17 came away with a $1,000 People's Choice award in the Information Technology/Software category at the fifth annual New York Business Plan Competition. Matlick is founder and CEO of SellYourTech LLC, an online business targeting students and providing a platform to sell their "used and abused" electronics.
His business idea came to him the year after high school when he was studying at the Westminster School. Matlick won Hamilton's fourth ­annual Pitch Competition in the fall and the Mohawk Valley Regional Competition this spring.
Prior to the Hamilton competition, Matlick had no experience with pitching or business competitions. He credits mentors, including Michael Fawcett '66, with preparing him for the regional event.
Acknowledging a Little who means a lot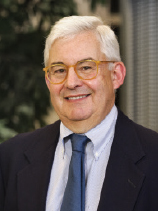 When the next Hamilton volunteer of the year is recognized this fall, the recipient can expect a "little" something extra. The name of this most prestigious award, presented by the Alumni Council to recognize "an individual who has provided a substantial, lasting contribution in his or her volunteer capacity," has been changed to honor Jeff Little '71, P'04.
"In naming the Jeff Little Volunteer of the Year Award, we'll be forever reminded of the unprecedented contributions its namesake has made to the College," notes Dick Tantillo, vice president for communications and development. "Jeff's deep affection and tireless work for Hamilton inspire scores of other volunteers. He is our gold standard."
A trustee since 1993, Little has chaired the Annual Fund and three consecutive capital campaigns — each of which exceeded its goal. In addition to his work as vice chairman of the board, Little has chaired the committees on development, and buildings, grounds and equipment. Along with his wife, Claudia, he supported several building projects, including the pub, squash courts, renovations of locker rooms and Bundy residence hall, and established a fund for the landscaping outside the Kennedy Center for Theatre and the Studio Arts, scheduled to open this summer.
Little served for more than 25 years as president and chief operating officer of George Little Management, LLC, the largest producer and marketer of tradeshows for consumer goods in North America — a company started by his grandfather and one, of course, that through the years has launched the careers of many new Hamilton graduates.