Not Your Father's Dining Hall
by Melissa Kong '08
Photos by Bob Handelman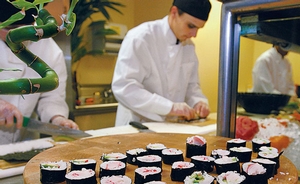 At one point or another, most students complain about dining on campus. After all, spending nearly four years eating at the same places, with the same familiar faces, can get a bit repetitive. But at Hamilton, the cure for food boredom is simple — creativity. If you're eating pizza and burgers five days a week, it's probably time to try something different, such as the seven-layer tortilla pie, a honey mustard salad with grilled chicken, or a toasted bagel with cream cheese and lox. With a half-dozen places to eat on campus and an endless number of food combinations, students at Hamilton really don't have too much to complain about … well, except maybe for the sushi line.
More than ever, health-minded and environmentally aware students are taking an interest not only in the ingredients and flavors of their food, but also where their food comes from. Bon Appétit, the College's food service provider, prides itself on a commitment to supporting small farmers."We buy antibiotic-free chickens and cage-free eggs, and much of our produce comes from a farm in Rome (N.Y.)," said General Manager Patrick Raynard, who with his executive chef visits local farmers markets. Over the summer, 80 flats of blueberries from North Star Orchards in nearby Westmoreland were made into preserves. Root vegetables and apples are stored for winter use in a cool basement. McEwen also features rice milk, soymilk and gluten-free breads from Peter's Cornucopia in New Hartford to accommodate students with allergies — or selective appetites.
The green cafe in McEwen is known for its selection of fresh foods prepared from scratch. At every meal, there is a phenomenal vegetarian and vegan section with veggie burgers, black bean dip, seasoned pita bread, tofu, portobello mushrooms and warm apple sauce.
Ask students about their favorite meal in McEwen and the answer will most likely be stir-fry. Students pick some of their favorite ingredients — pineapples, carrots, red peppers, broccoli, ginger and snow peas to name a few — which are added to their choice of chicken, tofu, beef, rice or noodles; the meal is topped off with hoisin, duck or teriyaki sauce.
Updates over the summer to the décor in Soper Commons gave this dining hall the look and feel of a European-style eatery. Featured each day are traditional entrées; a deli bar with fresh meats, cheeses and breads; rotisserie-cooked meat and chicken; and pasta and pizza stations.
With its bright red booths, jukebox and vintage posters, the Howard Diner has a fun 1950s vibe and attracts students who want to sit down with friends and people-watch through the big windows that look out onto Martin's Way. Some of the entrée favorites are the grilled chicken caesar wrap, the Philly cheesesteak and the panini alla napoletana, a diner specialty consisting of fresh-baked bread, smoked turkey, roasted peppers and mozzarella. Open until midnight during the week and 5 a.m. on the weekends, the diner is a popular spot for students grabbing a snack in between study sessions or filling up with a late-night diner breakfast after a long Saturday evening out.
Located in McEwen Hall, Café Opus is a popular spot with cozy couches and great music — it's perfect for students who want to relax, study or meet with friends and professors. Opus offers a different student-prepared entrée and soup every day at lunch. However good the lunches may be, Opus will always be known for its mochas, vanilla lattes and homemade chocolate chip cookies.What defines Opus is that it is an independent café, completely student-run under the direction of managers Larry Bender and Sarah Goldstein
A recent addition to campus, with a menu much like that of the original, Café Opus 2 (or O2) came along when the new Science Center opened last fall. Students and professors frequent O2 for coffee, lunch and desserts enjoyed in the building's bright Wellin Atrium.
On the weekdays, The Little Pub caters lunch for a small crowd. This is the place to go when students want a warm, quiet atmosphere and comfort foods like creamy soups, pizza rolls and deli sandwiches on fresh-baked rolls. Although pub lunch is open to everyone on campus, it appeals especially to upperclassmen.