Karen Brewer
Professor of Chemistry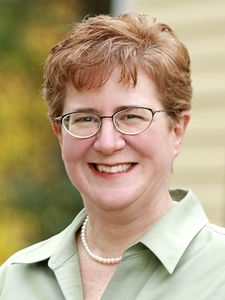 My parents, Robert and Kathleen, grew up in the years after World War II. As the youngest of five boys and whose father died when he was eleven years old, my father didn't have any opportunity to consider college. He did, however, excel and enjoy his high school studies while he helped my grandmother with her work as a seamstress to support the family. After high school, he began his life's work as a bricklayer, doing carpentry work and learning plumbing and electrical work along the way. Quite talented, he built the house I grew up in by working after his regular job and on weekends. Bricklayers don't work in the cold winter, so as a family we got used to spells of unemployment and a very tight budget in the winter. Summer was the time when dad worked a lot, and so we only ever took one family vacation to Mammoth Cave in Kentucky. My mother had limited choices as well, despite having done quite well in high school. Deciding not to become a nun, she entered nurses' training, worked a few years, then married and began to raise her family full time. While I was growing up, my parents eagerly took in all of the details of my school day and they encouraged my two brothers and me to always do our best work in school. They discouraged us from taking part-time work in high school to earn a little extra for ourselves or for the family saying that our work was to do well in school. Their advice and support worked; my older brother is a surveyor and my younger brother, like me, is a chemistry professor.
I think my fourth grade teacher, Mrs. Kobelt, was the first to propel me forward academically when she allowed me to work on my own to complete all of fourth-grade math so I could start fifth-grade math with "Group 1" in January. She also did not dissuade me from becoming slightly obsessed with the migration of arctic terns or working with the boys in the class to build a model internal combustion engine. I distinctly remember announcing to her that one day I would become a chemist. Who knew what I thought I would be in fourth grade would actually come true!
I suppose I first got the idea of going to college from my piano teacher, Miss Donat, who regularly gushed about a college in Ada, Ohio. A few in her family had gone to Ohio Northern University for pharmacy and after about eighth grade that started to sound more and more like a job that would both be stable and feed my interest in science. I really liked my science classes in high school and started to do well academically, which encouraged me more to think about college. Since my parents did not know how to help, I was on my own when completing college applications, but I applied and was accepted at ONU without ever seeing the campus. We were a little surprised that ONU had given me a better financial aid package than Ohio State and so in the Fall of 1980, off I went to ONU.
Pharmacy only lasted for a year and a half because of Dr. Sadurski in the Chemistry Department. I didn't know it at the time but he deliberately and relentlessly led the charge to recruit me into the chemistry major. By my sophomore year and organic chemistry, it seemed as though the entire department kept asking me at every turn when I was going to change my major. For a while I was a double major, but eventually saw the light and leaped into the abyss. I had no idea what to do with chemistry, I just knew that I seemed to be good at it and the Chemistry Department was so happy to have me. I had found my academic home. As I started my senior year and was doing research with Dr. Sadurski, the department simply stated that I was going to graduate school. Yikes! I thought, more tuition, but then I was excited to learn that for chemistry graduate school your tuition is paid for you and the graduate school gives you a stipend to live on. As a bonus I could defer my mounting student loans until after I got my PhD. Not a bad deal I figured. So I diligently applied to the places on the list they told me to. When I was accepted to MIT I remember having to explain to my parents that MIT was indeed a good school and going there would be better than going to Ohio State. They wanted me to stay closer to home. My future husband, Joe, whom I met in PChem class my junior year, was probably more excited than I when I was accepted and moved with me to Cambridge, Mass., that year.
Due to Dr. Sadurski's influence, I also began thinking about teaching at a small school once I finished my doctoral thesis. What he did seemed like a great job. It was flexible with the obvious rewards of teaching eager (and not so eager) students along with the opportunity to continue to work on my own projects in my own research lab. I held on to this idea all the way through graduate school and certainly baffled my graduate thesis professor when I asked him for recommendations for positions at small colleges, received several tenure-track offers, and accepted the position at Hamilton. Again, my husband moved with me to Hamilton and we made Clinton, N.Y., our home.
My path certainly wasn't smooth. My high school guidance counselor seemed disinterested and suggested secretarial school, even though I never took typing and graduated at the top of my high school class. My father had little or no work for much of the time I was in college due to the recession's particularly strong hold in Ohio, and I spent one spring break tracking down $700 so that I could return to finish my junior year. Deciding to pursue a faculty position at a small college meant that I had to overcome my sheer terror throughout high school and college of talking in front of groups.
Although I have now been at Hamilton for twenty years, I still find myself marveling at where I am. The ability of my husband, parents, teachers and professors to see my potential — not my financial limitations and more humble background — made all the difference. They gave me the freedom, support and push to gain confidence in my own academic abilities and dreams. For that I have been truly blessed.