Allen Harrison, Jr.
Associate Dean of Students for Diversity and Accessibility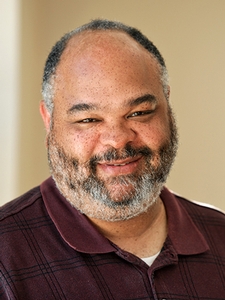 Recently, I was back to visit my alma mater. More than 20 years had passed since I'd been on campus. As the guard operated the control to lift the security gate, and as I drove through, memories of my time there as a student raced through my head. In all of the alumni literature I'd received over the years, I was aware that the college had grown and would look much different than what I experienced as an undergrad. In that time I had done the same. There were many more residence halls and improved athletic fields, and as I navigated the campus, construction of a new student center was the main attraction.

As I stood in the parking lot where I was first dropped off more than two decades ago, my thoughts led to even greater emotion. I remembered my mom and sister making the journey with me and how we walked briskly through the August rain with my luggage in hand and climbed up the steps to the building where check in was held. As I walked to the center of campus, I remembered how I had told my mom and dad after a one-year stint at a community college that I wanted to go away to school because I wasn't getting a real college experience. I remember them telling me that they could not afford to help me pay for it and my reply being, "I am still going to apply and if I am accepted I will attend." Even though I didn't know how I was going to pay for it, I was willing to take that risk, to do whatever it would take. After all, the chubby black kid from the low-income housing projects, who had a father who never made it past the fifth grade and a mother who received her GED, was going to do what he wasn't suppose to do: graduate from college with a four-year degree.

As my return visit to campus continued, I had to call my mom and tell her where I was. I had to share with her what I was experiencing. With cell phone in hand, I reminisced with her about the challenges we faced as a family, and about how far I had come from that fateful first day on campus. I told her, who would have thought I would have come this far in life and career. That's when she told me how proud she was of me. That I was able to put myself through college and graduate with honors despite not knowing how I was going to pay for it. She informed me that my father and she often reflected on how I didn't let the lack of finances dictate my educational future. I did not realize that this was a regular topic of discussion for the two of them.

As I strolled back to the car with cell phone still in hand and mom on the other end, my thoughts and the conversation transitioned to the long drive that was ahead of me. It was time to go home now, but I found the drive to be much shorter than I thought, as the longest journey of my life had already been accomplished.