Frequently Asked Questions
Hamilton College Events Calendar
How do I cancel my event?
In your event email confirmation, there is a phone number and email address to call to cancel your event. You can also email r25help@listserv.hamilton.edu with the event reference number.

[Return to Top]
Can I edit the title of my event after submitting my reservation?
Our intent is to have this functionality available after a future upgrade.
I use Internet Explorer and I'm having trouble accessing the calendar.
Our new calendar system works best and fastest with Mozilla Firefox or Google Chrome. Alternatively, you can set Internet Explorer to use "compatibility mode" (Tools -- just click Compatibility Mode, about halfway down).

What username and password do I use to login to 25Live?
You use your Hamilton College email username and password.
[Return to Top]

Can I see if a space is available before making my reservation, similar to what I did in the previous system?
From any calendar, click the Schedule an Event link.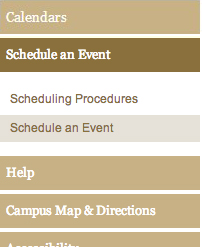 Enter a room or building in either the Quick Search or on the Locations tab. In the example below, a search is being done for all spaces in the Kirner Johns

The results will come up by default with the List tab, but if one clicks on the "Availability" tab, that will display a grid of rooms and times, showing when a space is available. There is a nice User's Guide that explains what one is looking at.

One can change dates above the Guide. When viewing multiple rooms, the default is a single day. For a single room, the default is a week.

I'm searching for KJ and can't find any spaces, why not?
While the new system's search is much more robust than our previous system as it is now searching the name of the space and the formal name of the space, KJ is in the system as KRJH or Kirner-Johnson. A search for "Kirner" will also display spaces for all of KJ.
What do I need to do to reserve a space for my course that is NOT open to the public?
Within 25Live, click on the Create an Event button.
Always select CLASS for Event Type.

Put a check in the CLASS ONLY box under the Custom Attributes box and click Yes.

Reference your Course Number in the Name or Title
These steps will ensure that your event will appear on the Classes and Related Events Calendar.

If your event will be open to the campus or the public, then you should select the appropriate Event Type and check the "Events at Hamilton" or "Open to the Public" box in Custom Attributes.
What is the turn around time for a reservation request through this new system?
Events are typically approved within one business day. If your event will take place before that, you should contact the office responsible for approving the reservation after submitting the request form. See the Scheduling Procedures.
I didn't receive an email acknowledgement, did you receive my request?
While our new system can be configured to send email acknowledgements, the same setting will generate an email every time your event is touched. For some, this can mean quite a few emails! For this reason, we disabled the acknowledgement and update emails, but you will still receive a confirmation email.
When you save your event, you will see the screen displaying "This event has been successfully saved." This is your acknowledgement that your event request is in the system and will be processed by a scheduler.

Do I still need to request support from Physical Plant, catering, Campus Safety or AV for my event?
Yes. You will still need to submit Physical Plant requests, contact Bon Appetit, Campus Safety, and AV to discuss your specific needs. We ask for the information on the reservation form so that information can be captured with the event information. As the system evolves, you will be notified when procedures will change.
[Return to Top]

My event is sponsored by more than one organization, but I only see where I can select one, how do I add the others?
Complete the Additional Organization(s) for this Event section of the request form:

You can also enter the additional sponsoring organizations in the description box on the reservation form.
[Return to Top]

I don't see a place to add a contact name for my event, where do I put that information?
The contact information for the event is captured via the login information of the individual submitting the request. If additional information is needed, please add it in the description box on the registration form.
[Return to Top]

How do I exclude my event from the events calendar?
Please include a note in the Comments section of the reservation form.
[Return to Top]

I see that a space is not available, can I still request it?
No, the new system will not allow you to save a reservation that contains a space conflict.
[Return to Top]

What is a space scheduler?
A space scheduler is the person who approves your event request. You will get a confirmation email from the space scheduler when your event has been approved. If you need to contact the space scheduler, you can find a list with contact information in Scheduling Procedures.
[Return to Top]

My class has more students than my assigned room will hold, do I make a room change request through this system.
No, please direct room change requests for academic spaces to Diane Brady (dbrady@hamilton.edu, 4638).
[Return to Top]

Is parking information included in the space attributes?
No, not at this time.
[Return to Top]

I don't know where the spaces are, is there a campus map included in the new system?
Under locations, there is a link that takes you to a campus map. A more detailed map will appear in the future.
[Return to Top]