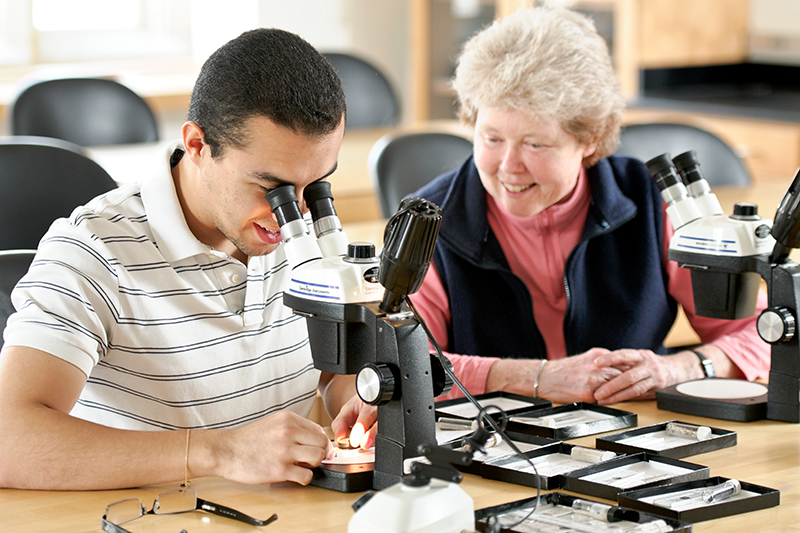 Kevin Herrera '16 with Professor of Geosciences Cynthia Domack.
A student's improbable pursuit: science and the stage
With classes, labs, theatre productions and other responsibilities, some days start at 9 a.m. and end 14 hours later for Kevin Herrera '16. If Herrera isn't the only geo-sciences/theatre double major you've ever heard of, he's likely the most determined. He still has the first-year planner in which he meticulously listed the requirements for the wildly divergent majors. He's en route to both. Herrera admits the combination isn't easy to manage, but says he's in the right place to make it happen. If you want a school "in which you can do almost anything you can imagine, there really is no better place," he says about Hamilton College.
More >>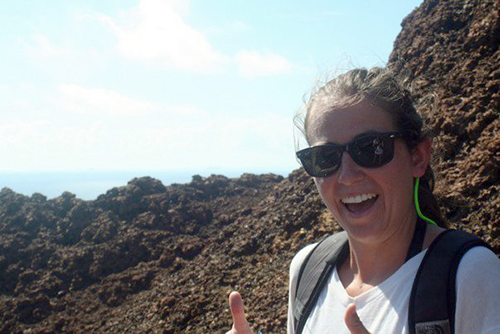 Caitlin Livsey '12 in the Galapagos standing in front of spatter cones.
A graduate's progress: pushing toward a doctorate
Caitlin Livsey '12, who is working on a master's degree in geosciences at Pennsylvania State University, plans to go for a doctorate in the subject she discovered at Hamilton College. "The thing I love most about geology is that it ties together so many different areas of study.
More >>