Entwined interests, with an emphasis on research
Science lover Lindsay Buff '17 hadn't expected to find a course of study that would allow her to spend time outdoors, another thing she loves. Then she took her first geosciences course. And she took a mineralogy course and a course in analytics methods in archaeology the same semester. "And they complemented each other so well that I started really diving into all of this lithic sourcing research," Buff says. She spent six weeks over a summer working at Hamilton College's archaeology summer school at the Slocan Narrows Archaeological Project, in British Columbia. Back on campus Buff is continuing to do lithic source research with Hamilton Associate Anthropology Professor Nathan Goodale and Geosciences Professor David Bailey.
More >>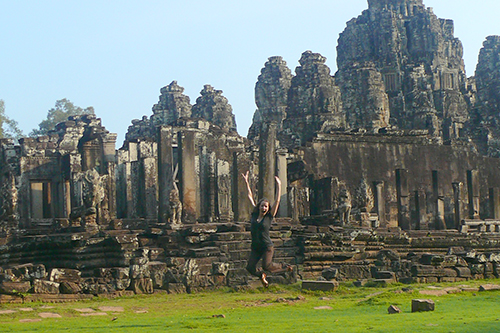 Mary Beth Day '07 on a just-for-fun visit to the Angkor temples in Cambodia, where she did research.
A graduate's progress: earning a Ph.D.
Mary Beth Day '07's Hamilton College education inspired her to pursue a Ph.D. in earth sciences at Cambridge University. She is nearly done with her doctorate and hopes to explore a career in environmental consulting.
More >>