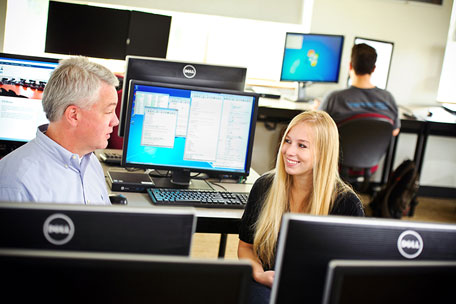 Mark Bailey, professor of computer science, speaks with Gretchen Walker '15.
A student pivots to a new passion
As an explorer of the liberal arts, Gretchen Walker '15 covered a lot of ground before she claimed computer science as her major. Without Hamilton College's open curriculum, she says, she'd never have been able to experience so much and still take on an unexpected concentration. "I didn't take a computer science course until the fall semester of my junior year, but I immediately fell in love with it," she says.
More >>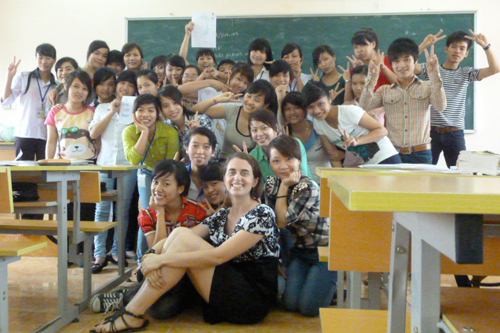 Amelia Mattern '12 and the English class she worked with during her Fulbright teaching assistantship in Vietnam.
A graduate's progress: A Fulbright and a master's
In high school, when her big brother told her she would love computer science, Amelia Mattern '12 refused to believe him. Still, at Hamilton College she heeded her friends when they extolled their intro computer science course. She signed up. "Well, after about one week I was hooked. We would have weekly lab assignments that I would go home and code up in one afternoon, completely ignoring my other assignments because I was so addicted," Mattern says.
More >>